Resin detail accessories for sale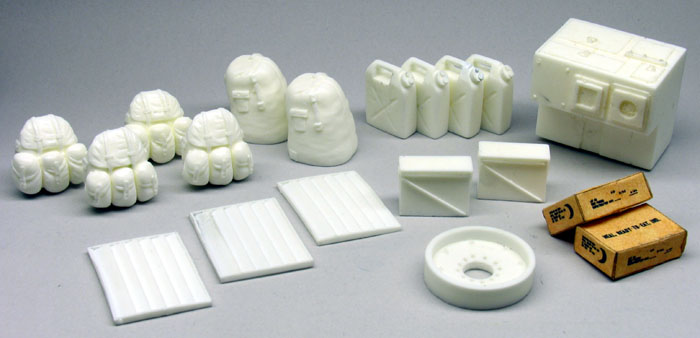 The resin accessories shown above are castings made from original masters/patterns, sculpted and fabricated from epoxy putty and sheet styrene. These are designed for use on the 1/24 scale R/C Marui M1A2 Abrams tank. It is also suitable for the 1/25 scale Franklin Mints M1A1 Abrams die-cast. The accesory parts serve as a starting point that you will need to assemble, detail, and paint prior to use; thus some modeling experience will be needed.
The 1/24 scale Abrams tank crew accessory set includes the following pieces:
4x water cans
4x ALICE Medium rucksacks
2x duffel bags
2x 20mm ammo cans
3x CIP thermal ID panels
1x turret Auxiliary Power Unit (APU)
2x MRE cases ***newest version supplied*** (paper self-assembly item)
1x spare road wheel
Material- The resin used is white polyurethane used for commercial casting purposes from silicon molds. Occasionally, an air bubble will be present on the castings; they can be easily filled with putty. If I see any air bubbles on parts I sell, I will endeavor to fill or sculpt any lost details. Paper items are printed on high quality inkjet paper that should be sealed with a protective overspray prior to use.
Surface preparation- The castings will arrive with the pour stubs intact. This can be carefully removed with a razor saw and 200 grit sandpaper (emery paper) in a figure 8 pattern. This can be further polished with 400-600 grit paper as well.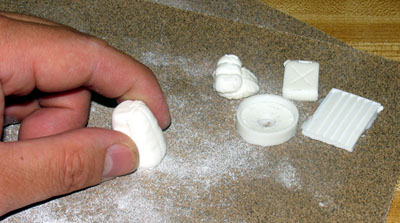 When sawing or sanding resin, it is important to take care with sharp tools and wear a dust mask. Inhalation of resin dust is dangerous. Dispose of casting stubs and resin dust properly.
Painting- The resin readily accepts hobby acrylic or enamel paints. It is best to wash the resin pieces in a mild detergent to remove all traces of sanding dust and oil from your fingers. A black or white spray primer provides better adhesion. Tamiya makes spray paints in realistic military colors. Stencils can be obtained from Tamiya or Verlinden as dry transfers or decals.
Attachment and detailing - The simplest method to affix the resin crew gear is to glue it to your tank. But it is quite easy to attach soft twist wire to the accessories so you can remove and rearrange the gear as you wish. Steel wire can also be bent and glued in place to form attachment clips on the gear.
The crew gear can be further detailed. I suggest the following:
1) ALICE Rucksacks - add compression straps
2) Spare Road Wheel - add a rubber tire (ex: a butyl bicycle inner tube)
3) Ammo Cans - add carrying handles
4) MRE cases - add shipping straps
5) APU - add rivets to the corners
Click here for completed examples from the "Accessories" section of this webpage

Suggested placement of detail accesories for one Abrams tank.
Guarantee- If you find problems with the resin castings, please notify me within 2 weeks of delivery via e-mail. I will do whatever I can to rectify the problem. However I cannot accept returns if you cut, sand, paint or modify the parts in any way; so please inspect your purchase at the earliest opportunity. Please study the pictures carefully before purchasing, and feel free to e-mail me with any questions.
Price- The price is $45 which includes USPS 1st Class Priority shipping to USA adresses with delivery confirmation. Unfortunately, I cannot take international orders; due to recent problems with customs and the inability to track lost packages.
Currently, I accept personal checks. If you wish to purchase my resin accessories, please e-mail me, so we can exchange further information. Typical turnaround time is about a week; I will cast up the parts while waiting for your check to clear at the bank.
Thank you for your interest in my work!
Click on the link below to purchase: