With the decision to enter the 2003 AMPS East competition, I set out to find a suitable display base. Again I envisioned the Abrams traveling through a lightly forested area with grass and other detritus.
A 20 inch wide picture frame looked promising, and I began by gluing several sheets styrofoam on top of the glass. The stryofoam was applied in layers to build up the counters of small bumps and depressions on the surface. Liquid plastic cement was applied to melt irregularities on the foam surface. I then glued on several layers of coral sand and painted it in several shades of brown.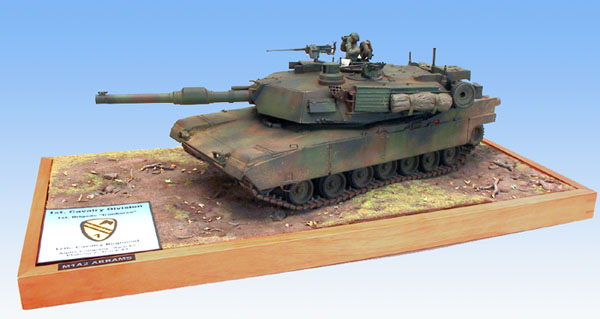 Several different sizes of pebbles were pushed into the styrofoam surface and glued in place. I then sprinkled dried tea leaves, wood chippings, and model railroad ballast onto the surface, secured with another layer of brown paint. The entire surface received several dark green and black washes and drybrushed in different shades of brown and gray.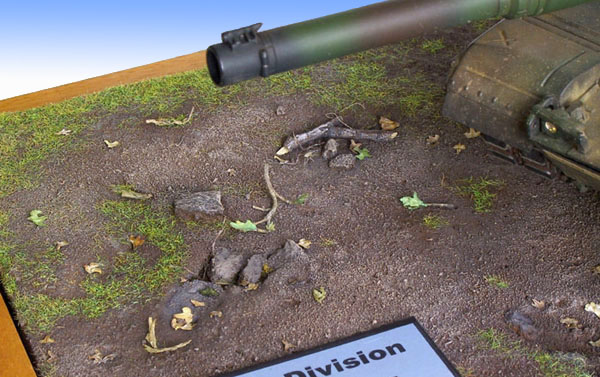 Static grass with then lightly attached with PVA glue, and tiny branches and weeds were glued onto the surface. To get a random effect, it is important to lightly sprinkle the static grass. Simply dumping it onto glue, results in thick unrealistic clumps.
The branches, and surface then received leaves selected from parsley flakes. Several thick layers of Testors' Dullcote sealed and stiffened the surface for further drybrushing.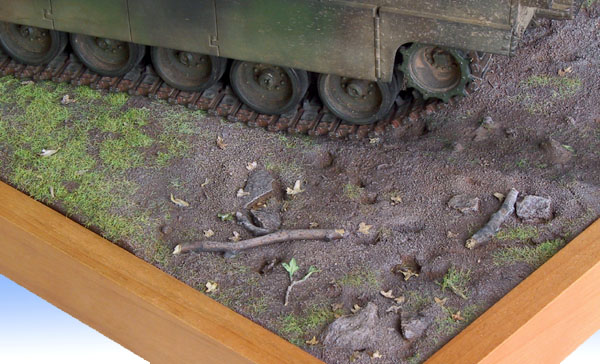 To show off the suspension; I modified it with light tension springs, and the hull was weighed down with lead to give the impression of weight to the vehicle.
With a bit of additional research, I then chose to mark the Abrams as vehicle of the historic 1St. Cavalry Division. I decided to print a color graphic logo with unit badge as opposed to the more traditional brass nameplate.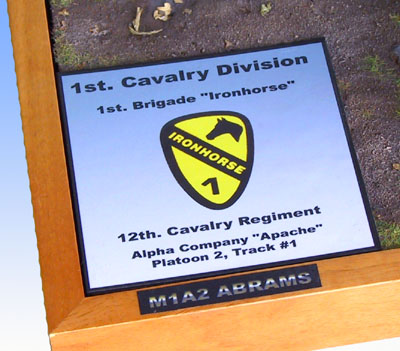 To continue, click on the link below: