Radio control model tanks have been around since the 1970s. Although not as popular compared to R/C cars and airplanes, R/C tanks have their own appeal, and there is a growing market for them. The earliest commercial tanks were kits made by Tamiya in the 1/16 scale and Bandai in 1/25 scale. Recently R/C tanks have experienced a new popularity, with the advent of digital control systems, more efficient motors and batteries. Tamiya has updated their older RC tank kits and have even released additional WW2 era German tanks. These tanks are electrically driven with realistic proportional control, actual suspension system, digital sound, and working lights. You will need to purchase a separate transmitter and batteries. Tamiya's 1/16 scale RC tanks retail for $400-$700 USD.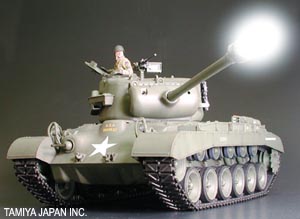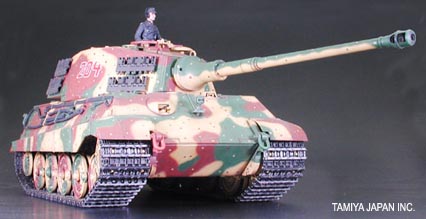 In 1/48 scale Minicraft, Aoshima, Arii, and Trumpeter offer tank kits that are controlled by a wired RC unit. Tamiya has taken some of their more popular 1/35 armor models and adapted them for use with remote control as well. Although realistic in appearance, they lack a suspension, or speed control. Newer models may feature digital sound or rotating turrets. Most of these tanks cost around $20-$70 USD.

Arii Type 90
With the increasing miniaturization in electronics, companies such as Kyosho and Dragon now offer desk top size wireless remote control tanks. Kyosho's Pocket Armor are 1/55 scale, preassembled and painted, ready to run scale models. Optional tracks and Hi-Mobility wheels improve mobility. Dragons Micro-X tanks are even smaller at 1/72 scale and are also pre assembled and painted. Borrowing from their expertise in 1/6 scale action figures, Micro-X tank feature very subtle and realistic weathering on their tanks. These desk top tanks do not have rotating turrets or a suspension, but are quite powerful for their size, and are perfect for apartment dwellers with have little space. A simple 4 button transmitter is included. These tanks are an inexpensive introduction to the hobby. Pocket-Armor and Micro-X tanks average $40-$60 USD.
Kyosho Pocket Armor
Dragon Micro-X
Tokyo Marui, a company in Japan known primarily for their realistic Airsoft BB guns began manufacturing radio control (RC) tanks in 2000. Their first effort to appeal to the domestic market was a 1/24 scale modern Japanese Type 90 Main Battle Tank.
Tokyo Marui Type 90
Tokyo Marui Abrams
The success of their RC tanks led to an American M1A2 Abrams in 2001, and the German Leopard 2A5 followed in 2002. The 1/24 scale is commonly favored by car modelers, resulting in a R/C tank that is somewhat of a hybrid combining the best features of the bigger Tamiya 1/16 cousins, and the smaller desk top Micro-X and Pocket Armor tanks. Let's take a look at these features:
1) Preassembled and painted- Tokyo Marui tanks are fully assembled and pre-painted to a high standard similar to Micro-X and Pocket Armor tanks. There is no assembly of the gearbox or motors. All you have to do is insert batteries into the tanks and included transmitter and the tank is ready to run.
2) Similar to Tamiya's large scale tanks, the Tokyo Marui tanks have an actual suspension system, allowing it to be driven over rough ground for a realistic appearance. Separate track links are available for an even more realistic function. They don't have the proportional speed control of Tamiya tanks, but do have separate speed control for straight line and turning speeds. The turret also rotates and the main gun elevates.
3) What sets these tanks apart, and puts them in their own unique category is that they feature an Airsoft system in the main gun. That's right, the main gun actually shoots! An electric motor powers a piston that launches 6mm plastic BBs up to 75 feet away.
Tokyo Marui tanks can be purchased for as little as $135 USD. Academy also makes RC Airsoft tanks, and Hen Long sells a copy of Tokyo Marui's Japanese Type 90 for $50 USD.
To continue, click on the link below: