The fabrication, casting and painting of the accessories took approximately 2 month to accomplish during my spare time. Again I referred to reference photos for like placement of the crew's gear. The photos showed a haphazard arrangement in some, and a better adherence to established load plans in others. In general, the crews avoid placing anything on top of the turret blow off panels.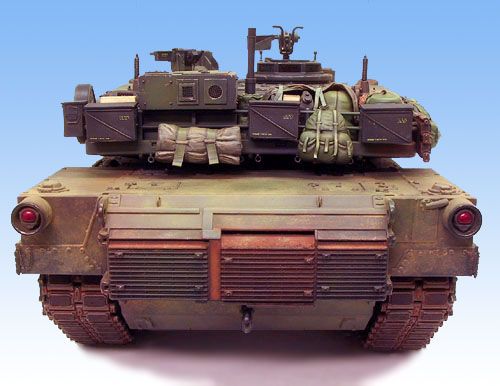 The brake light lens were painted in a dark gloss maroon color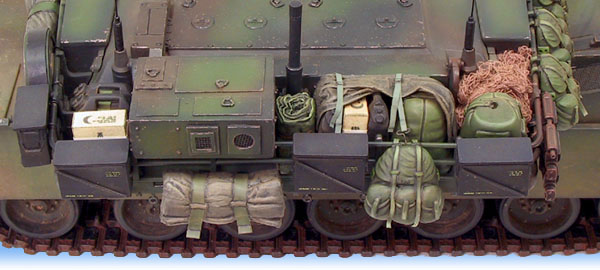 Every resin cast crew gear is secured with straps and tie-downs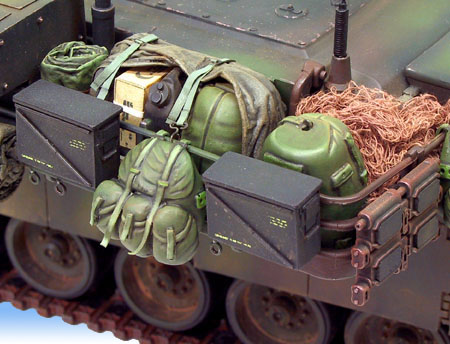 Note the tiny strap hooks made from brass wire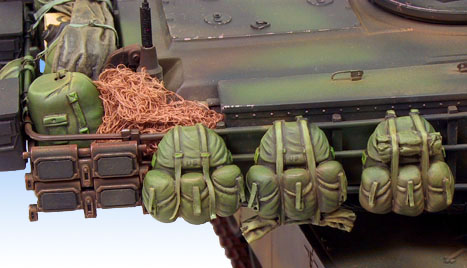 The spare track segment has drilled out track pins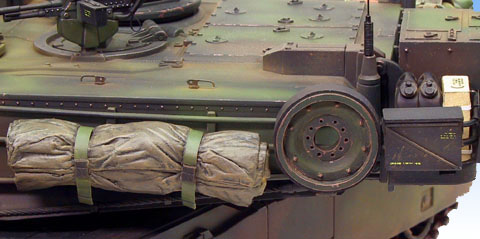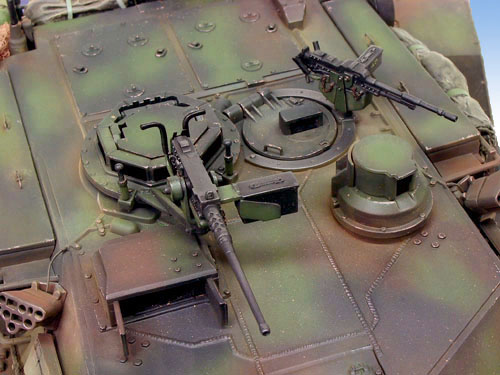 The 50Cal. HMG has not recieved extra detaling to the ammo chute or box yet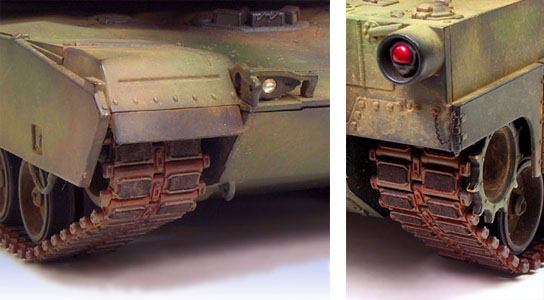 The mudflaps are made of soft rubber
An extra strap with fittings hang from the turret "grunt rails"
There is an absence of 4 mud holes in the outer sprocket half, but this is probably a limitation of the tank's R/C abilities (drilling lightening holes in this scale will probably weaken the drive sprocket).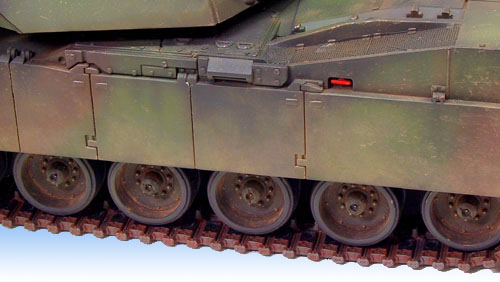 The center hub of the road wheels are made of clear plastic and the black oil can be seen through the hub. The oil level is normally just up to the center plug of the hub. This will be difficult to replicate in Tokyo Marui Abrams since the hub is metal and screws directly onto the axle, but is a detail that should not be missed on 1/35 scale models.

After these photos were taken the Abrams suffered a broken motor in the BB gun system that resulted in a fire in the circuit board. The damage was quite extensive, and the Abrams was rendered into a static model.
I decided to take a break from modeling while I searched for a solution to repair the damage. Luckily, members of the Yahoo Tokyo Marui Group helped out with advice and even spare parts! After a month of repair work and testing the Abrams was back in action.
At this time I found out that the Armor Modeling and Preservation Society (East) was having a military modeling contest in Newburg NY. With a renewed enthusiasm for my Abrams, I set out to further refine the details and try my hand at the competition.
To continue, click on the link below: