Factory – Hen Long
Release date – 2002
Status – Currently In production
Price- $45 USD or less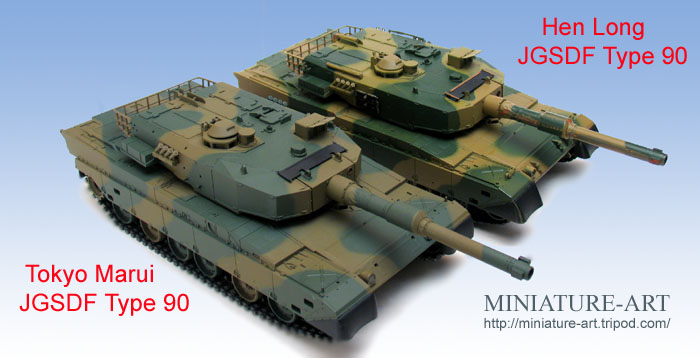 Paint Quality- Type 90 has a green and brown camouflage pattern. The M1A2 Abrams has the brown, black and tank NTC pattern camouflage. The Leopard 2A5 has a green black and brown fictional camouflage pattern. Colors vary from each production batch, and quality is poor with overspray, thin spots and dust/dirt and paint smears.
Assembly quality / Accessories- The hull and turret are made from thin and brittle styrene plastic prone to cracking. All tanks use the Type 90 lower hull. This is a glaring error since the Abrams and Leopard 2 upper hulls are mated to a lower hull with only 6 road wheels. Assembly is poor with detail components misplaced, or missing. The supplied rubber tracks are thin, oily and exude a foul odor. All 3 tanks come with a copy of the Japanese Type 90 tank commander figure. The Leopard 2A5 turret appears passable but is missing many of the numerous surface details.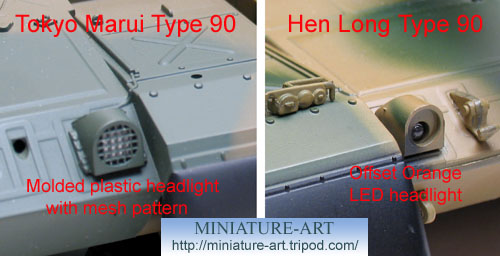 LEDs are used during programming modes
Airsoft Mechanism - Spring powered, capable of shooting 0.12g 6mm pellets approximately 25 feet.
Motors – All three tanks use brushless 130 motors for the turret elevation, traverse and Airsoft mechanism. The gearbox uses two 280 size brushless motors for movement.
Batteries- All Hen Long tanks come with 8AA 1100Mah rechargeable batteries that fit in the lower hull compartment. The transmitter is supplied with a 9v battery.
Transmitter- All Hen Long tanks use a modified Marui Type 90 "tall" transmitter. It operates on the 27mhz frequency, "A,B,C" band so three of their tanks can run simultaneously. The frequency crystal is fixed, and cannot be removed from the tank or transmitter.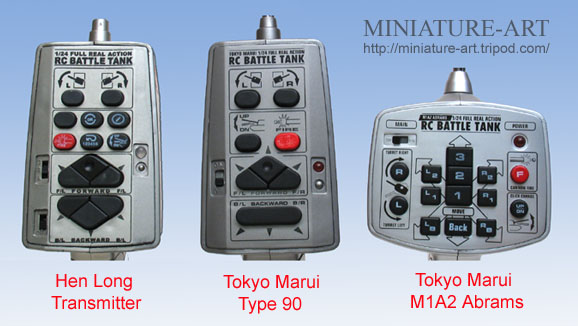 All Hen Long tanks use the same transmitter on the left in 27mhz
Antenna – All Hen Long tanks have a single stainless steel antenna, fixed to rear of the hull.
Function – Similar to Tokyo Marui's Type 90 with two forward speeds, and single speeds for turning left and right in forward and reverse. Hen Long tanks run a little faster than most Tokyo Marui tanks. They also feature a program mode, which allows you to run the tank and fire the Airsoft gun without further input. This function is actually quite fun to use, but best saved for large open spaces.
Comments- In 2002, the Chinese manufacturer Hen Long released their first Airsoft tank, the JGSDF Type 90. Soon after, they released a M1A2 Abrams and Leopard 2A5, using the same incorrect Type 90 lower hull and transmitter to save tooling costs. A side by side comparison shows that Hen Long based their tanks on Tokyo Marui's Type 90, with the addition of rechargeable batteries and program mode.
Hen Long tanks typically sell for $45 USD or even less on internet auction sites. Most retailers have labeled Hen Long tanks as "Marui OEM" in an effort to deceive customers into thinking they are purchasing an original Tokyo Marui product at bargain prices. There is absolutely no association between Tokyo Marui and Hen Long Airsoft tanks.
With this lower price point, there is a distinct difference in quality. Members of the Yahoo Marui Tank Group have encountered many problems with Hen Long products, mainly due to cheap materials used, second rate electric components, and poor build quality. Out of the box, the poor workmanship of Hen Long tanks are apparent, with visibly cracked hulls or turrets hastily reglued together at the factory. Some Hen Long tanks do no run properly if at all, with mismatched motors that cause the tank to pull to the left or right during forward speeds. Because of lower grade plastics, the Airsoft mechanism is prone to breaking after moderate use. Also the drive sprockets easily separate from the axles, and guide teeth in the sprocket drum can crack.
Hen Long tanks are not a substitute for Tokyo Marui tanks, and those who purchase them due to their low prices, should be prepared to spend time repairing any deficiencies encountered. Despite their outward similarities, parts between Tokyo Marui and Hen Long tanks are not always interchangeable, and inadvisable due to the difference in component quality. Of note, the circuit board, hull suspension system, and gearboxes are different.
The images below shows features common to most Hen Long tanks: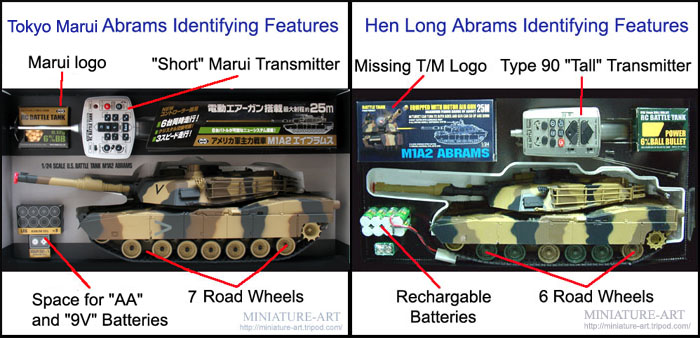 The incorrect 6 road wheels per side are also used in the Hen Long Leopard2A5