The plastic miniatures in the Command Squad are based on designs from the larger Warhammer 40K 28mm range of metal miniatures. They add a lot of character to any Space Marine army. The Mk6 Marines in shooting poses are metal miniatures from Adeptus Titanicus, a game that even predates 1St Edition Space Marine!!!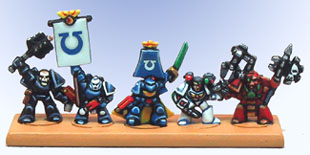 Ultramarines Command Squad. The Captain
has been converted with a Mk6 helmet.