Guest Gallery: Tim Lison
Plague Marine Command Squad


Tim Lison's Nurgle Plague Marines was created to be a parody of the Imperial Space Marine Command Squad. As a fan of Father Nurgle, Tim readily converted each miniature with parts from Imperial Space Marines, Chaos Marine miniatures, and even parts from the Mordheim plastic sprues. With a knack for sculpting in Kneadatite (Greenstuff), and a impressive painting ability, Tim's miniatures look evil without being cluttered or over-done. Also Tim chose a limited plaette of colors, and used a green tint in his highlights, giving all the miniatures a unifying look.

This unit placed 3rd in the Open Category at the US Golden Demon/Games Day 2000, when Tim worked for Games Workshop US as a regional manager,(East Coast) and retail manager of the NYC store.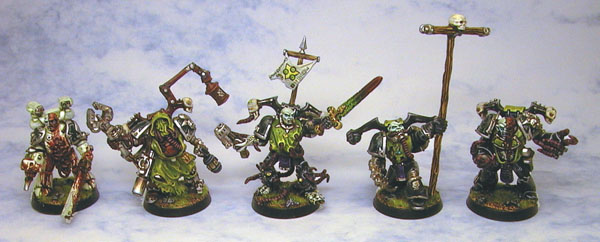 Click on the links below to view the miniatures: