My squad is based upon characters from the comic BloodQuest by Gordon Rennie, and Colin McNeil serialized in Warhammer Monthly. I was heavily inspired by their tales of loyalty in the face of adversity and hardship, as the Blood Angels led by Captain Leonatos are exiled to search for the sacred Blade Encarmine.
The Space Marines miniatures are plastic with Scouts converted from metal castings. Since each miniature represents a special character, close attention was given to uniform and equimpent details; no expense was spared in the assembly and painting stages. Research and planning in my spare time for this diorama took almost a year; in all the entire squad and display base took over 250 hours to paint alone.
This unit earned 1st place in the Warhammer 40K Squad Category at the US Games Day/Golden Demon competition, and was also awarded the 2001 US Golden Demon Slayer Sword.

For information regarding the conversion and assembly of the Exiles miniatures, check the Hobby Tips and Articles section of the webpage. You will find pleanty of documentation about creating the BloodQuest miniatures.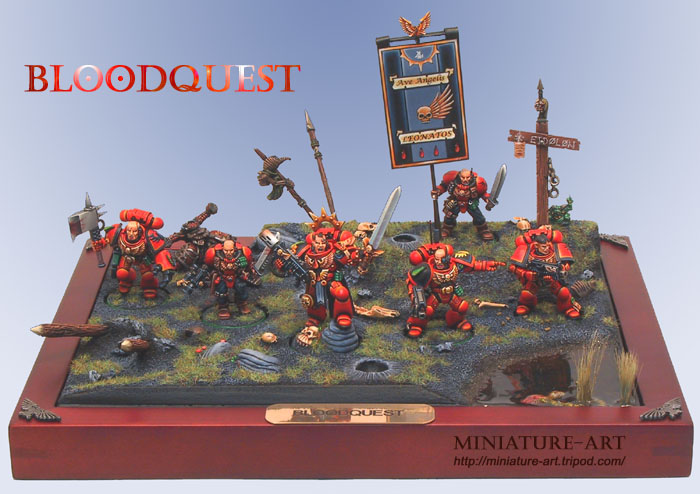 Click on the links below to view the miniatures:
Leonatos Captain of the Exiles